AVCA625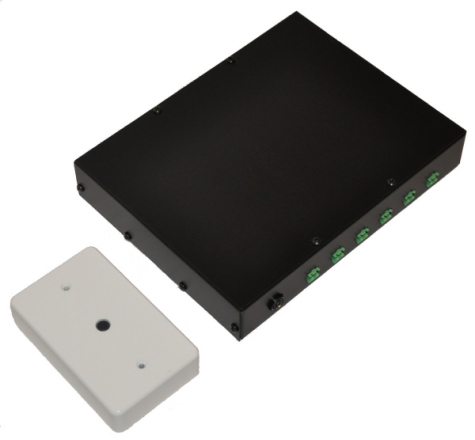 Description:
An ideal solution for quick service restaurants, convenience stores and exhibits, the Automatic Volume Control Amplifier (AVCA) adjusts the volume of audio content relative to its environment. The AVCA provides remote feedback and management - making it easy to deploy and manage on large networks.

How does it work?
The system determines when to adjust the volume by detecting when the audio input signal is low. This low time occurs between tracks, songs, commercials or during soft passages in the audio. Once the system determines an appropriate time to adjust the volume, it compares the ambient noise level read by the microphone at the same time the audio input was low to determine an appropriate volume level based on programmable parameters.

How is it unique?
This AVCA is specifically designed to control foreground audio, or audio that is intended to be heard. Other solutions that constantly adjust volume levels, such as those used in paging, overcompensate for drastic changes in the listening area. To make the system transparent to the listeners, the AVCA has programmable limits on the amount of volume increase and the time frame of volume increases. Optional remotely mounted control buttons allow for limited adjustments to be made in the listening area.



Hardware Features:

Power: Six Channels, 25 W per channel into 8 ohms
Frequency Response: 20 Hz to 20 kHz, +0/-1 dB
Microphone Input Range: -45 dB SPL to +100 dB SPL
Audio Input Connectors: Two RCA Jacks
Loudspeaker Output Connectors: Removable Screw Terminal Blocks
Loudspeaker Output Type: Symmetrical and Balanced
External powered microphone is designed to be remotely mounted
Microphone Connector: 8P8C (RJ45) – Use standard twisted pair networking cable to construct any length connection cable onsite.
Remote Panel Connector: 8P8C (RJ45) – Optional external buttons connected using twisted pair networking cable.
Programming/Monitoring Input Connector: USB Mini-B
Protection: Thermal and Short Protection at All Outputs includes an auto-recover feature.
Class D amplifier operation is greater than 90% efficient
Serial USB connection to PC for remote monitoring and configuration.
Stereo input is combined for mono output if desired. Through hardware jumper configuration.
External power supply. 100-240 Vac , 50/60 Hz, 10 W idle, 220 W peak
User adjustable PCB Jumper Settings:

Audio Equalization, Left and Right
Adjustable First-order Bass Rolloff, 0 dB to -10.5 dB in 1.5 dB steps
Turnover Frequency: 100 Hz
Relative Gain Settings (each of six channels): 0 to -6 dB in 2 dB steps
Audio Routing: Each loudspeaker output can select Left, Right, or Both (mixed)
System Programming Features:

Communicates over USB connection with PC using RS232 serial connection.
Adjustable Volume Offset determines volume level by adding the Volume Offset value to the ambient noise dB reading
Adjustable maximum and minimum volume levels.
Settings to determine the maximum allowable dB increase over an adjustable duration.
Programmable Response Speed allows for larger or smaller samples of audio track and microphone to be used to make volume adjustment calculations
Optional external buttons can be configured to allow for controlled or limited adjustment to be made onsite. Onsite adjustments can be reset after a variable duration.